Even before quarantining was the new normal, you may have skipped out on Valentine's Day and avoided the festivities. But at a time of uncertainty, we believe it's more important than ever to celebrate your love, whether you're recently engaged or married for 10 years.
We surveyed 8 women who shared their Valentine's Day plans with us. With a little creative thinking and planning, anything is possible this year! Take inspiration from their plans, or review our Brown Bride tips to give you more ideas.
---
RENT A MOVIE THEATER
We will be spending Valentine's Day by renting out a movie theater for the evening. Before covid we would love going to the movies together and being able to go to the movies again will bring back memories to when we first started dating.
Lyn | Dallas, TX
Brown Bride Tip: Want to bring the entertainment home instead? Try out this highly rated Tango class and transport yourselves to a romantic night in Buenos Aires.
---
HOST A VIRTUAL MOVIE DATE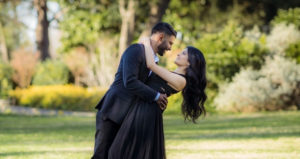 I'm long distance with my fiancé right now, & I came down with Covid- in the middle of re-planning our wedding for the 3rd time. We haven't really planned any Valentine's Day festivities with everything that's been going on, but we'll probably end up doing a virtual movie date.
Sreela | New York, NY
Brown Bride Tip: Long distance is hard enough without throwing a global pandemic into the mix. Send a playful Valentine's Day card from the Pyaari Shop – we love the Raj & Simran creation!
---
CELEBRATE CHERISHED TRADITIONS
Because it's been so busy with the kids (and they are priority), we have both decided to make it a point to count the little gestures as big ones. I will definitely be expecting my "surprise flowers" in the morning. Our favorite dessert and a good movie while the kids are already in bed, and we'll call it a great Valentine's Day!
Sahar | Dallas, TX
Brown Bride Tip: Choose a reliable flower delivery vendor like Urban Stems to guarantee on-time delivery (and get $15 with our link!).
---
SUPPORT LOCAL RESTAURANTS
This how we are planning to spend Valentine's Day – My boyfriend and I are planning to eat at our favorite ramen restaurant, in order to support local businesses during COVID
Ria | Fairfax, VA
Brown Bride Tip: If going out to eat isn't an option for you, why not try your hand at a cooking lesson? We're excited about this street taco class or this delicious pasta and chocolate class (seriously, who wouldn't like that?).
---
CELEBRATE OUTDOORS
We're celebrating our first Valentine's day as a married couple canoeing on the lake in Austin.
Effie | Dallas, TX
Brown Bride Tip: Rock a stylish new mask on the water – find a design you love on our list of 13 face masks made by South Asian vendors!
---
RECREATE YOUR FAVORITE DINNER
For Valentine's this year, we plan on recreating our favorite restaurant dinner at home which includes steak and mashed potatoes. Also, we were thinking of doing a paint and sip night where we bond through painting and enjoy the evening with some wine.
Leeann | Houston, TX
Brown Bride Tip: If you and your significant other are budding wine enthusiasts, we recommend this Argentine wine class with a local sommelier.
---
DRESS UP FOR THE OCCASION
Inshallah, I'm FaceTiming with my fiancée. I'm going to dress up in one of my favorite date night dresses, light some candles, and hopefully, we can coordinate dinner so that we'll be eating at the same time and the same thing.
Mishaal | Houston, TX
Brown Bride Tip: We've been looking for any excuse to get dressed up during quarantine, whether it's with cute accessories or a stylish outfit. Check out the clothing and jewelry vendors on our site for inspiration!
---
BOOK A MINI GETAWAY
Since quarantine has restricted a lot of typical Valentine's day plans, my fiancé and I decided to book a remote cabin getaway for Valentine's weekend. The cabin is equipped with everything from kitchenware, indoor and outdoor fireplaces, TVs in the bedroom and on the outside deck, outdoor grill, outdoor hot tub, pool table, indoor and outdoor showers, etc. It's the perfect secluded and romantic getaway.
Alishia | Dallas, TX
Brown Bride Tip: While travel may be restricted for the foreseeable future, there are still local getaways you can plan with your partner to break up the routine and escape the everyday. Here are a few of our favorite (and romantic) Airbnbs.
Romantic Airbnbs for a Valentine Getaway: