We recently got some advice from a few of our favorite photographers on how couples can plan ahead for wedding photos. If you're camera shy, we know that taking photos (lots of 'em!) can feel stressful and overwhelming. It doesn't have to be! Plan a couple of poses ahead of the big day and you'll be as ready as can be. Here are some poses our photographers love to recommend to their couples:
"My favorite wedding pose is an "eskimo kiss" or what Southasian folk refer to as a "Bollywood kiss." A "Bollywood kiss" is simply two noses touching and leaning in for a kiss but not actually kissing. The reason I love this pose is because it's so versatile. There are a variety of ways a photographer can capture this pose. For instance, the couple can be either standing or sitting. Personality also plays a part in how the photographer captures this shot. If the couple is silly, then the photographer can get them to laugh and capture big smiles on the bride and groom's faces. If the couple is more shy and reserved, the photographer can have them close their eyes, relax, and feel the emotions of being in the presence of their soulmate. You can't go wrong with a "Bollywood kiss" because it looks like a fairytale in your wedding pictures and feels like one in real life!"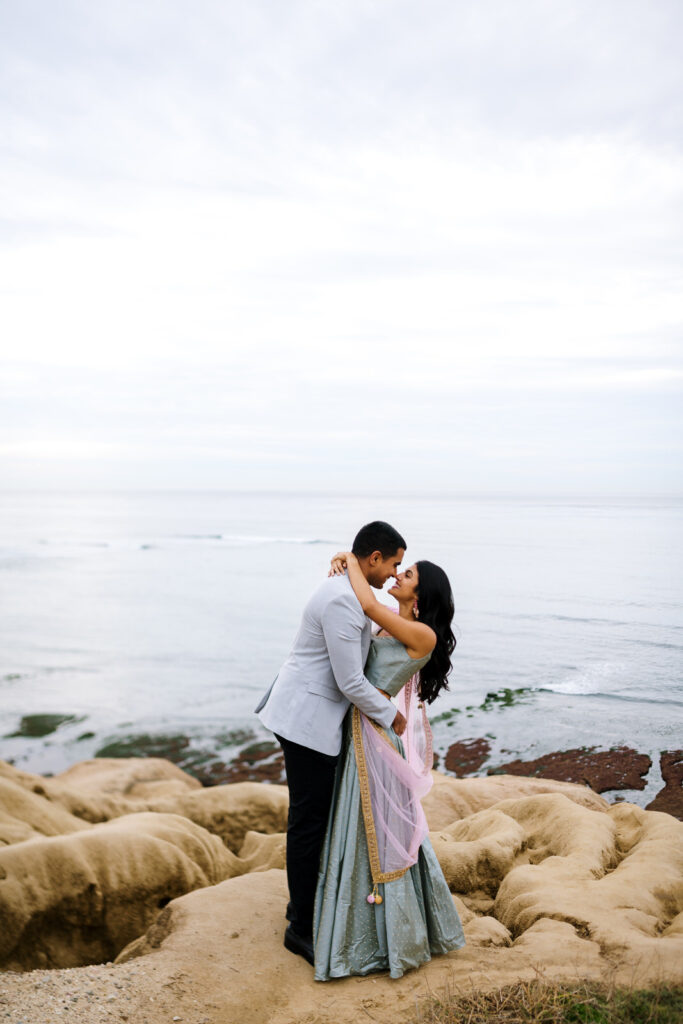 "I love taking photographs where the couple is walking towards the camera. We can get so many variations just within this one simple pose. It's when the couple stands facing the camera, and either hold their hands in the middle, or link their arms around each other's and walk towards the photographer. "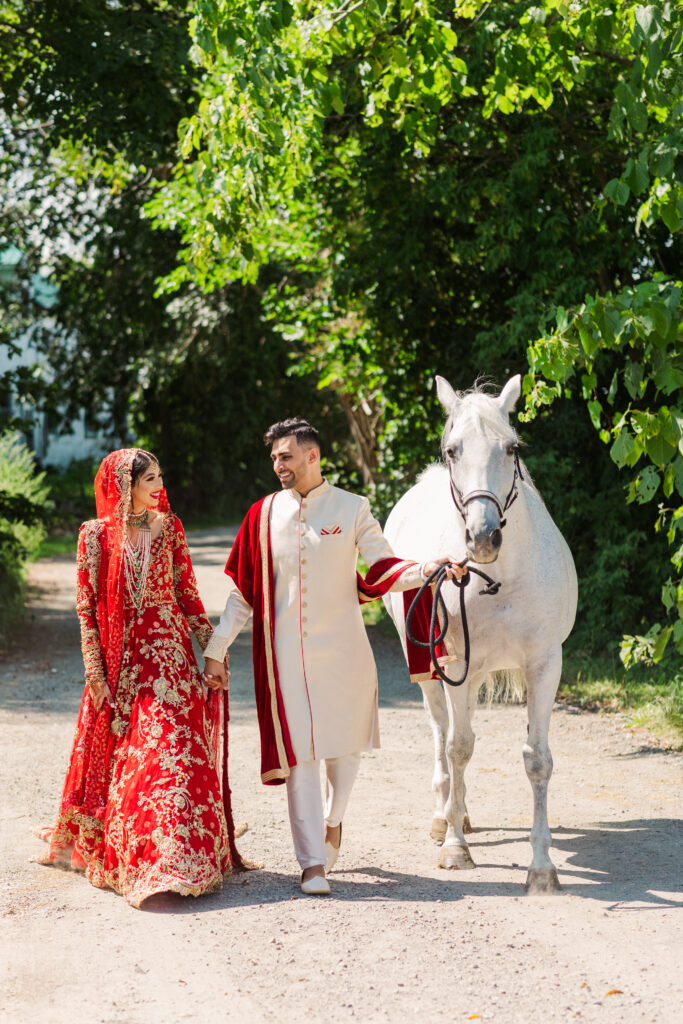 "My favorite wedding pose that I recommend to couples is simply having them look at each other. This pose instantly sparks magic, showing genuine love between two people. It's beautiful and real, which is something I love to capture from behind the lens!"
"Veils are definitely my go to! I believe in utilizing a bride's veil and dupatta to the fullest. I like to let my brides know ahead of time that we are about to get REALLY close! Personal space is non-existent with this shot.
You can utilize the veil many ways. The more fabric available the better. Start by getting under the veil/dupatta with your client(s). Make sure the fabric is falling vertically down both of your backs. This will allow you to easily manipulate the fabric for your shots. Work around with different poses and angles to achieve similar shots to these."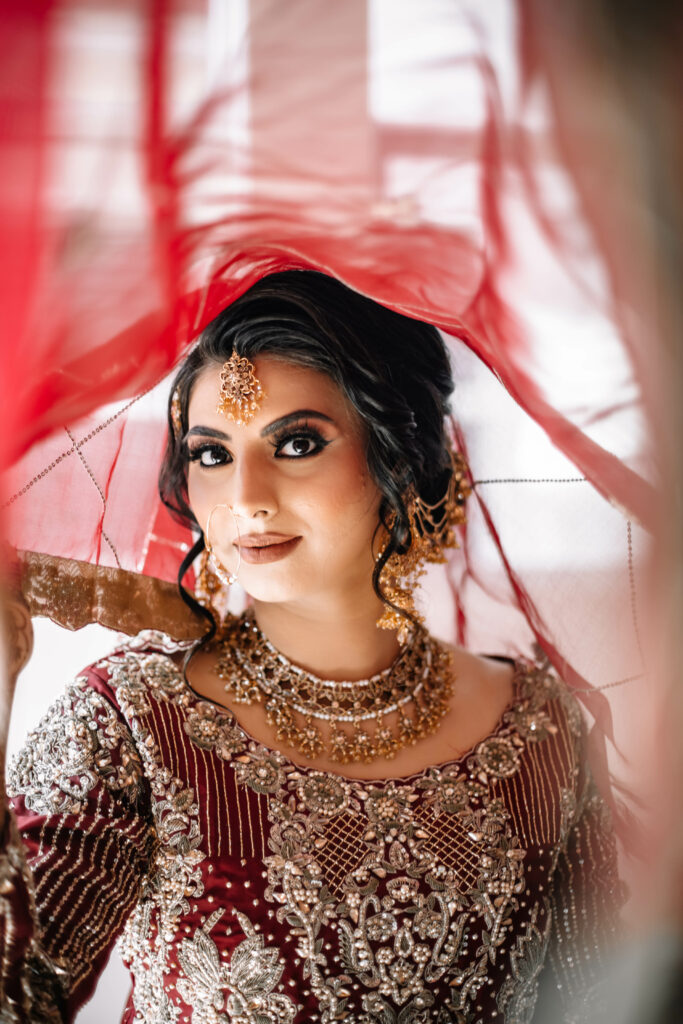 "We like to always ask our couples what they are comfortable with first before recommending any poses to them since everyone has varying levels of comfort in front of a camera! Recently, we have asked our couples to just start up a conversation with one another and imagine we are not there while we pan around them taking pictures. We ask them to look at one another and get close so their heads can touch and we take a few pictures like this to highlight some candidness while still having the couple pose!"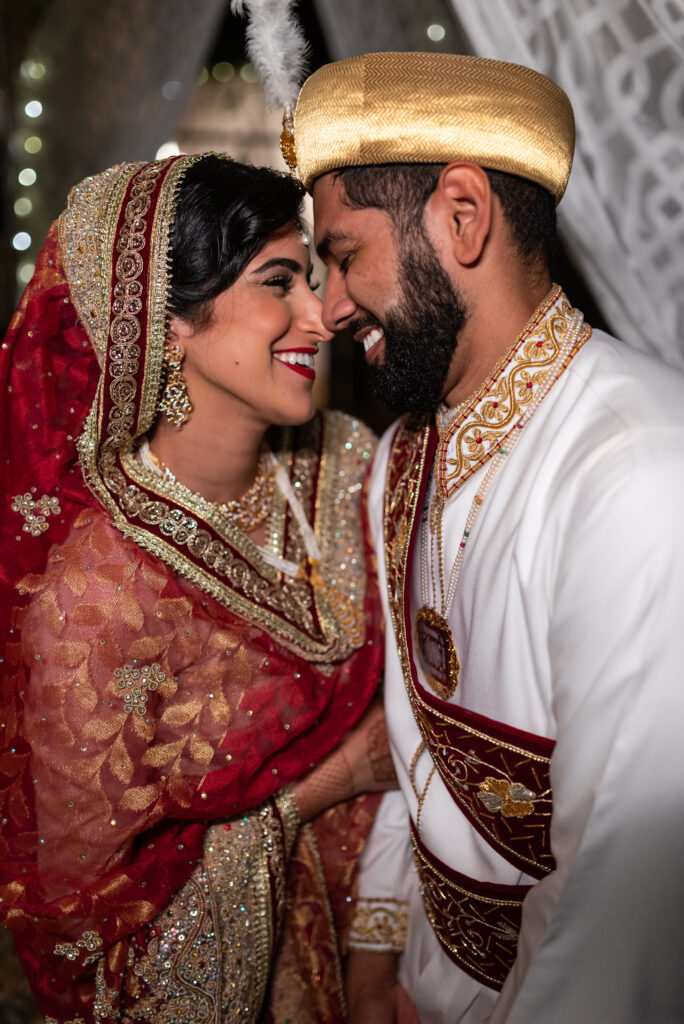 "Whisper something funny in your significant other's ear! I like to recommend this pose not only because does it capture natural laughter but it also captures the intimacy between the couple. The pose actually forces the other individual to lean in close to the ear and displays a natural sense of closeness and bonding."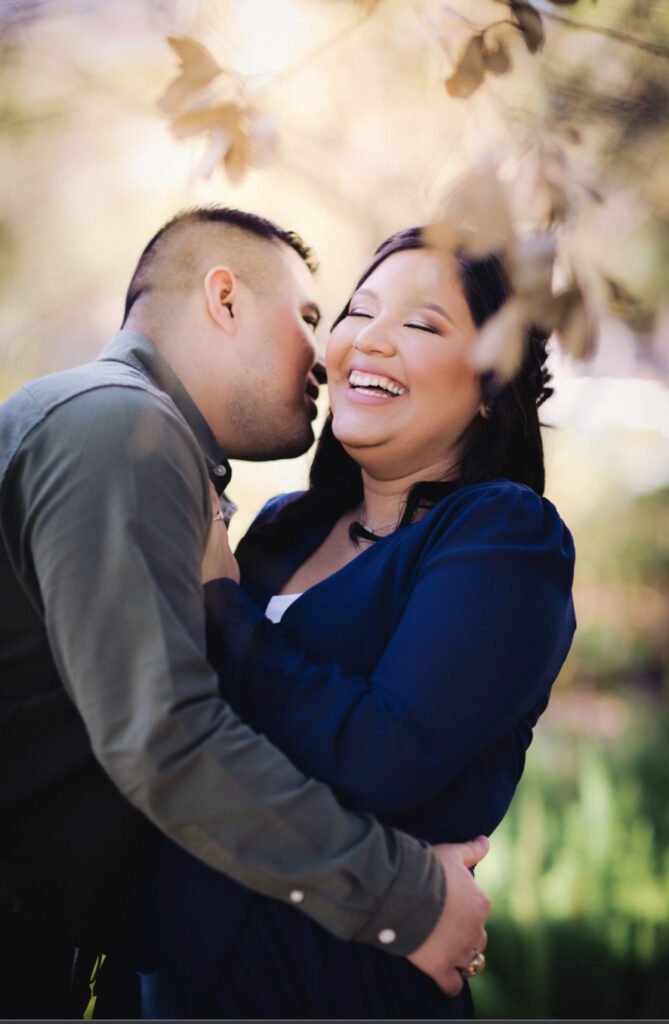 "My favorite wedding pose would be chest to chest. The bride and groom face each other (chest to chest) while touching foreheads or noses. Then bride puts her hands on his upper arm and groom wraps hands around her hips! Make sure to fluff out the dress if it has a tail! I love this pose because it's super close and intimate."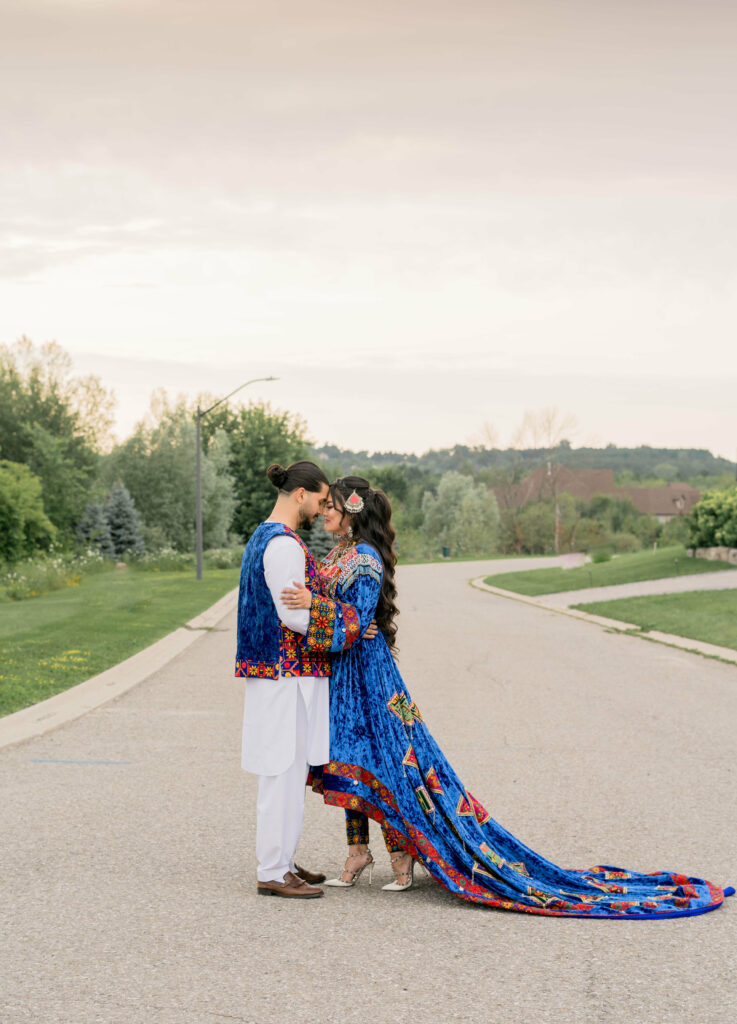 "Our favorite pose is the dip because there is so much chemistry that is easily captured in such a romantic pose. The dip requires a level of trust, flexibility and balance.
Our style varies based on mood and aesthetic of the environment. For example, a pastel colored dress bride will have light and airy pics. The richer colors used in weddings get a bolder look."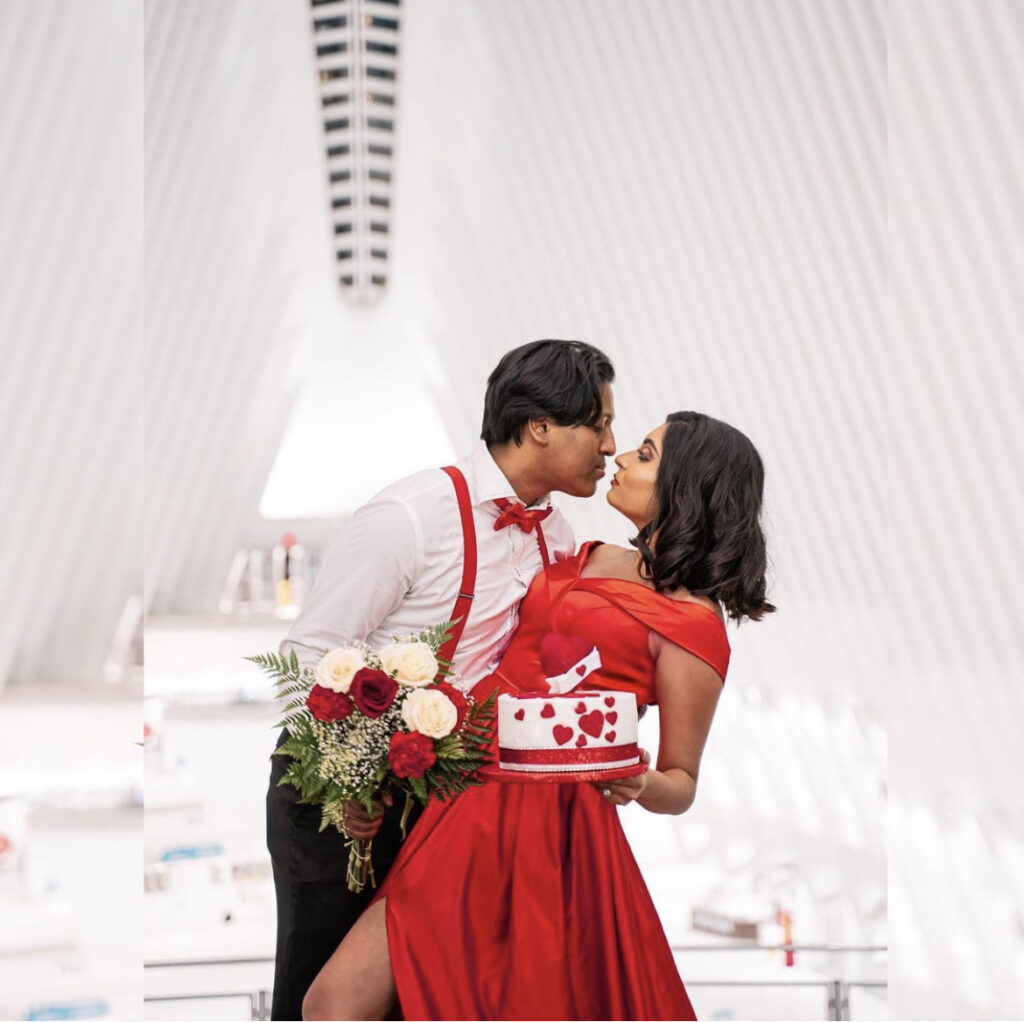 Are you a photographer that works on South Asian weddings? Add your business to Brown Bride (hint: it's FREE!)
---
SAVE THIS POST FOR LATER!