From groom's henna to double dupattas, Brown Bride asked our community's top wedding vendors to share their predictions for 2023 wedding trends.
---
THE COMPLETE LIST – 2023 GIFT GUIDE
What's IN In 2023
Longer and More Intricate Henna Designs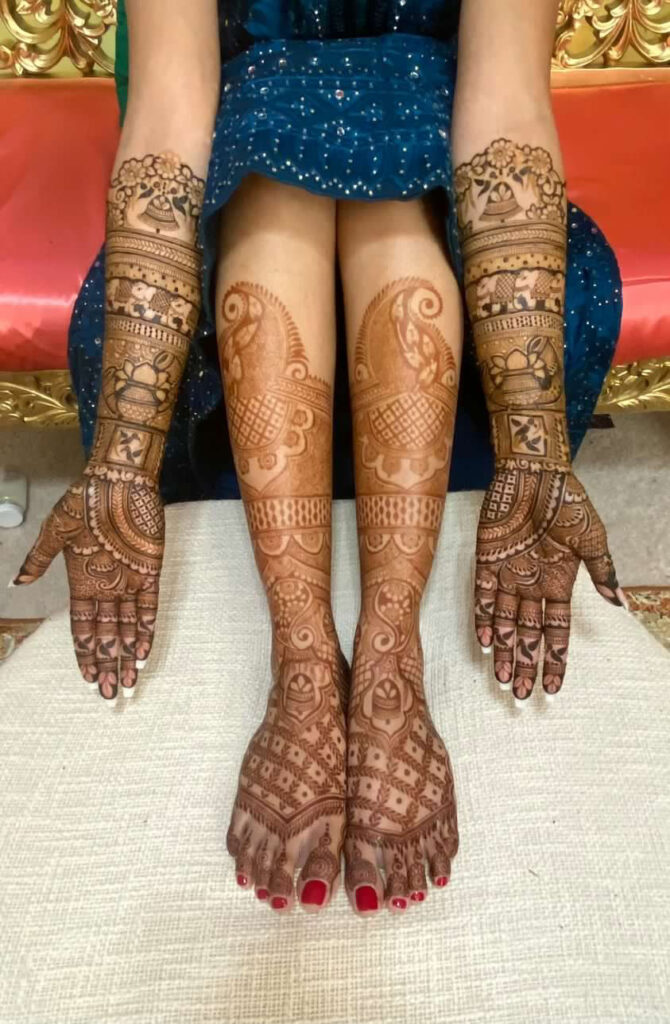 "I noticed most of my clients are choosing to get feet henna an additional 3-4 inches above the ankles this year compared to previous years. Additionally, close families such as the mother and sister of the bride and groom have been requesting more length which I see continuing in the upcoming year. The design trends that will continue in 2023 include the three-leaf pattern at the tips, figure henna (of bride and groom), and block pattern designs (where negative space around a small patch of design is covered with henna). The standards for intricate details are slowly increasing. Clients have begun to prefer a more clean and delicate look." — Ava's Mehndi, Baltimore
---
Groom Henna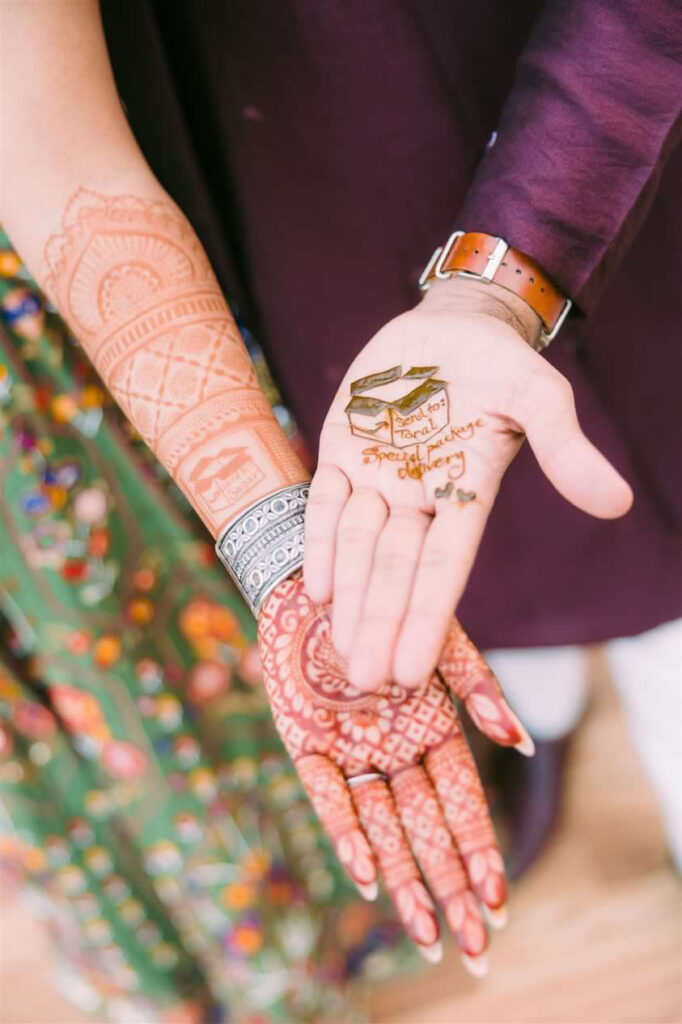 "Gone are the days when only girls could have fun on Mehndi Nights. Grooms have been actively taking part in Mehndi Night by getting a small patch of design to celebrate the start of their wedding festivities." — Ava's Mehndi, Baltimore
---
A Glowy Base and Soft Glam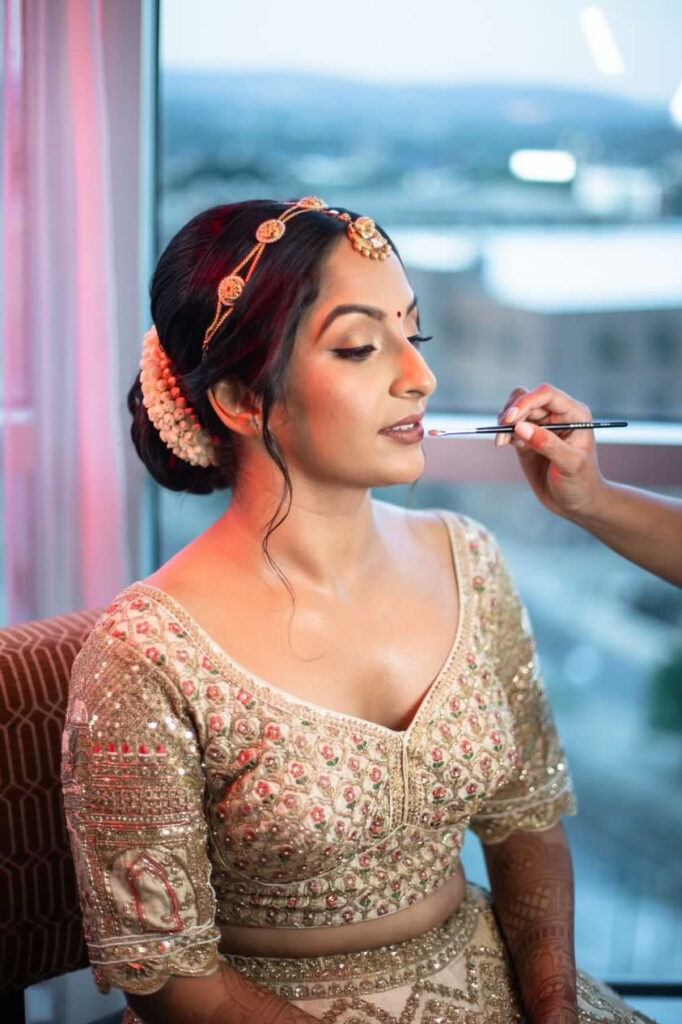 "As far as makeup trends go, glowy fresh skin will always be at the forefront of bridal makeup. A heavier blush made a comeback last year and I think will stay a part of the 2023 wedding season as well." — Makeup By Sravya, Los Angeles
"Soft glam is a makeup style that is a notch above the natural look. This look is fabulous in person and captures well in photographs and video. In most instances, the bride will be ready four hours before the ceremony starts, and soft glam ensures the longevity of the makeup throughout the ceremony without having to touch up. In this makeup style, artists enhance the bride's features by strategically layering products to create a long-lasting look." — Solah Shringar, Washington D.C.
---
Personalization/Customization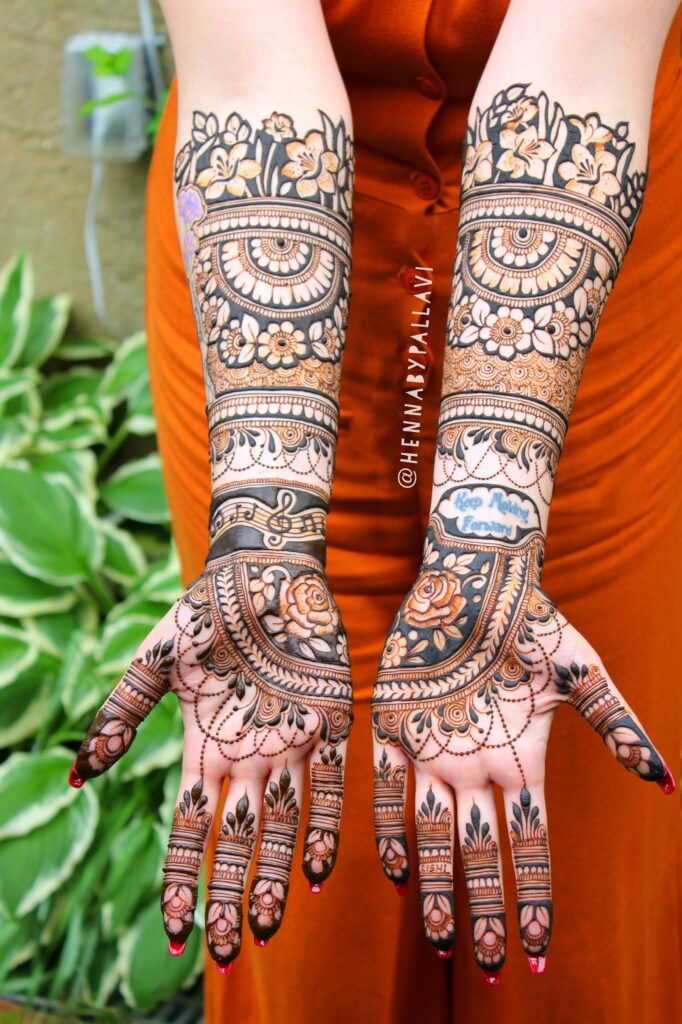 "If we look at the recent works of artists from all over the world, it's quite evident that brides will continue to personalize their bridal henna. Elements like city skylines, pet faces, logos that symbolizes the college that bride & groom went together to, their favorite sports team, something related to the first place they dated each other, things they love to do together, their favorite food, or something that symbolizes their profession; all of this help showcase their love story through the canvas of Bridal Henna and add a personalized flavor to it. This is something that appeals to today's modern brides who wish to follow traditions but with their own personal twist. Henna also gives them a beautiful medium to flaunt and share their love stories with friends and family present at the wedding. Incorporating contemporary personalized details would still continue this year while some clichéd wedding-related design elements like shehnai-dhol, kalash, bride sitting in a doli, and groom riding a horse might see less popularity as they are already on the verge of decline. Brides look forward to setting up a new trend or following the latest one while moving away from these motifs which were a fad till recently. However, culturally auspicious designs such as elephants and peacocks would still be staying as a timeless element that retains the traditional aspect of Bridal henna. Raja-Rani which is more popular than Bride & Groom these days, are more likely to be still in demand and are definitely going to be one of the favored trends in 2023." — Henna By Pallavi, New Jersey
---
Intimate Ceremonies and Destination Weddings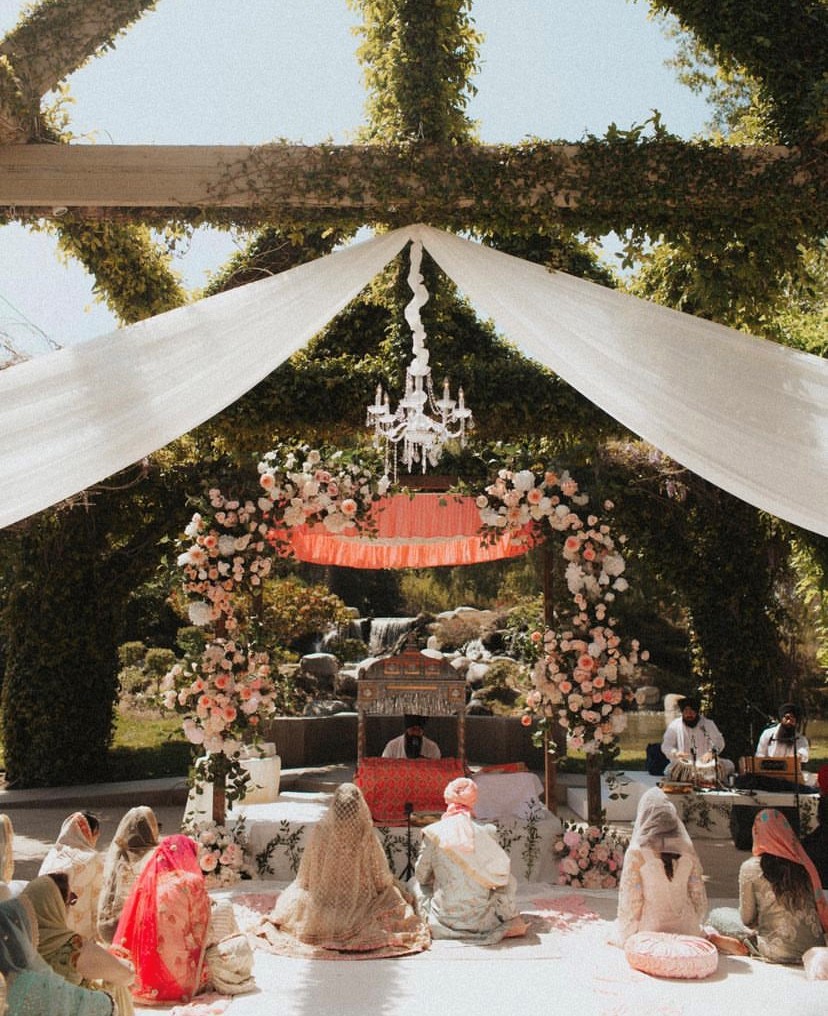 "In 2020, the COVID pandemic forced couples to have intimate and small ceremonies, which are rare in South Asian culture. I personally can attest to it as my own wedding flustered larger than I planned for! As the world came back to the new normal in 2022, the small intimate weddings stayed, and they are here to stay in '23 as well. Intimate unions also allow couples to have destination weddings with nature and corners of the world as a witness to their union. With the rise in destination weddings last year, the trend will also carry forward in '23." — Solah Shringar, Washington D.C.
---
Vintage Clothing and Family Heirloom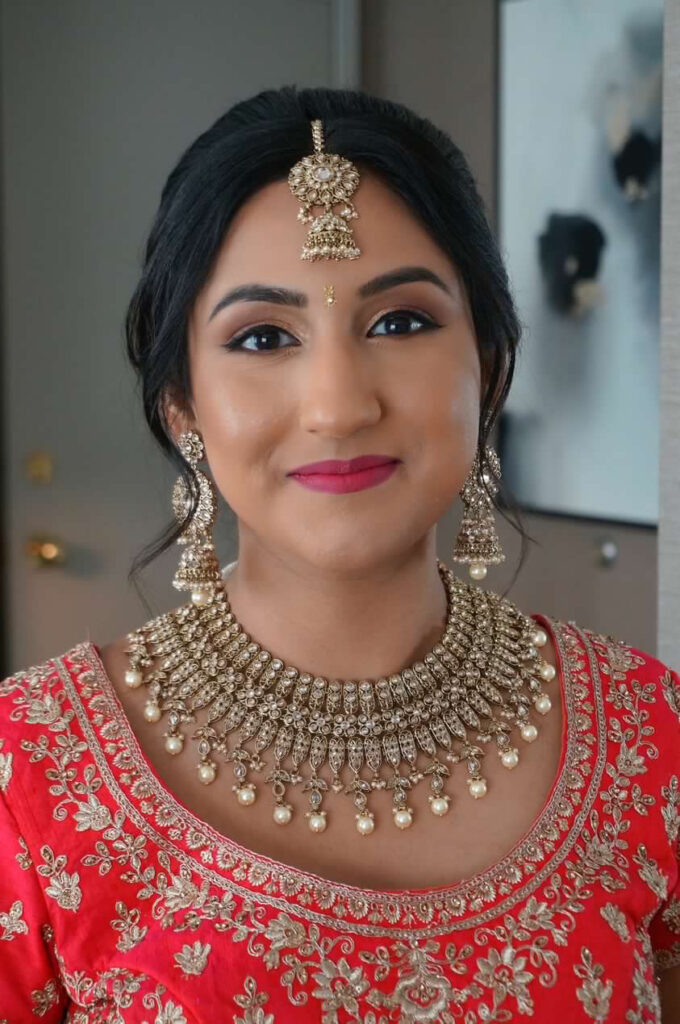 "Many of my brides have chosen to take part in their mother's or grandmother's jewelry and outfit to honor them by making it part of their wedding outfit. There are blessings, traditions, and stories of families hidden in those pieces. It's a matter of honor for a bride to wear them. As we know, vintage is the new trend! Kundan and polki jewelry, popular a century ago, is back in fashion. When brides choose their outfits and jewelry these days, they think if it will be relevant years down the road to pass it on to their kids as their heritage. So, the jewelry and outfits are also becoming investments, which they will leave behind and share with the future generation." — Solah Shringar, Washington D.C.
---
Pre-Wedding & Post-Wedding Photoshoots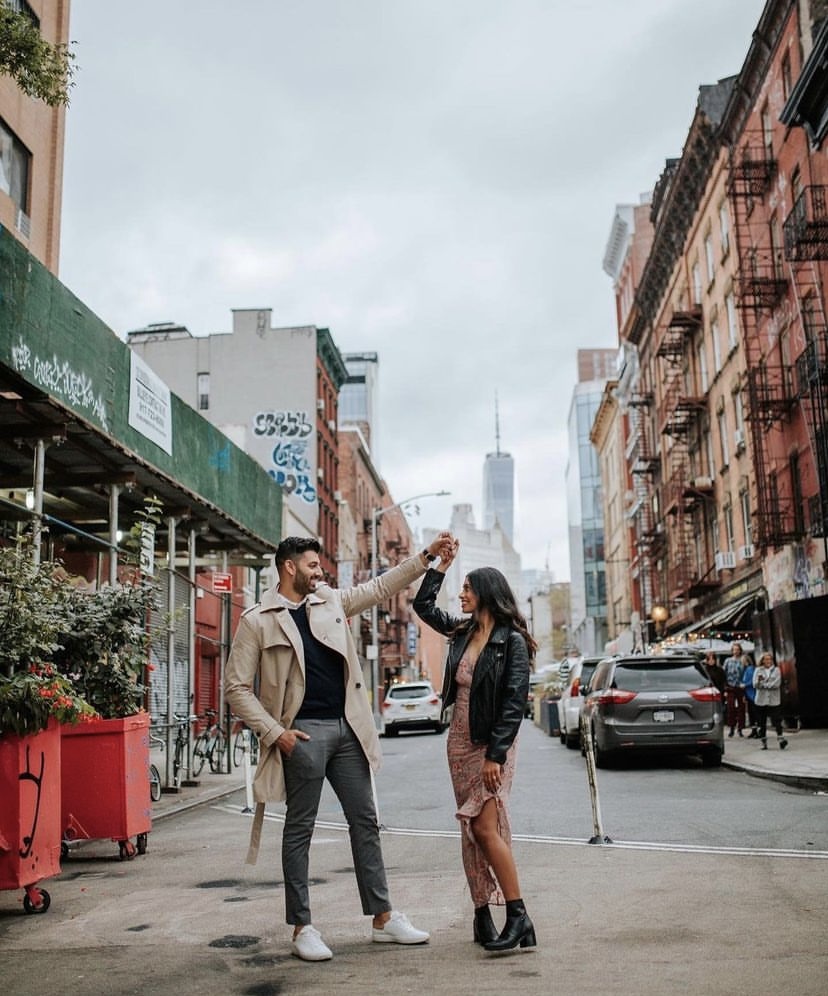 "The pre and post-wedding photo shoots is the perfect way to get those special picture-perfect shots the couple has been dreaming of." — Epic Everlasting Events, Atlanta
---
Floral Buns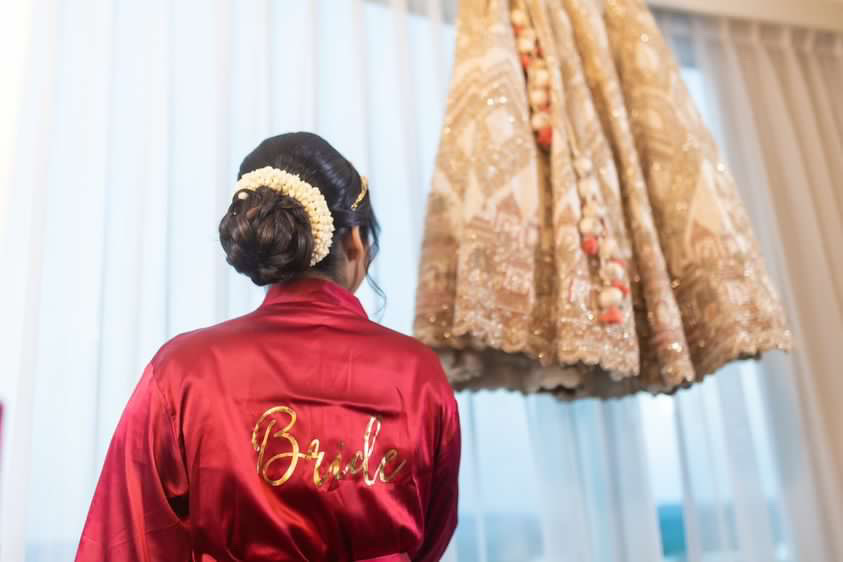 "Floral buns adorned with flowers will always stay current. This is one style that would never go out of fashion. I have styled grandmothers, mothers, brides, and even teenagers and kids in a floral bun, which is flattering for all. I would recommend this style for the ceremony for all ages. Jasmine and roses are the first and traditional choices but don't forget the baby's breath and carnations, which are equally elegant. Discuss with your artist to help determine which flowers and colors would help finish and add to your look." — Solah Shringar, Washington D.C.
---
Balancing Traditionalism & Modernism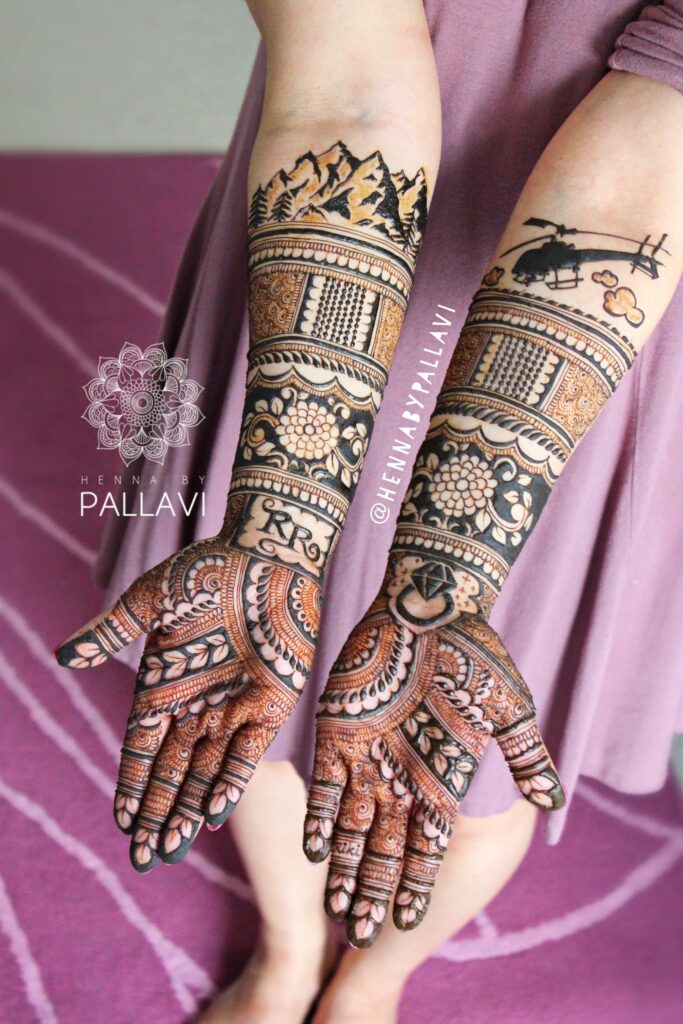 "Although one can never be 100% sure of what might be the next big thing in the wedding Industry, I anticipate that the rising new trend of bold intricate grids, will continue to dominate. Artists are taking inspiration from varied sources of architectural structures for more unique and complex grids. A grid with lotus infill, tiny elephants, or even floral vines and scrolls would be one of the popular things to do on the top of Bride's hands in 2023. Brides are inclining more towards bold, geometric, and reverse infill design that pops out in color and significantly grabs everyone's attention. These grids could be labeled as 'fusion elements' since they carry little elements from both- the traditional and contemporary aspects of design. As our 2023 brides are all about creating a balance between two contrasting worlds of traditionalism and modernism, we will see a rise of fusion elements in the coming wedding seasons."— Henna By Pallavi, New Jersey
---
Double Dupattas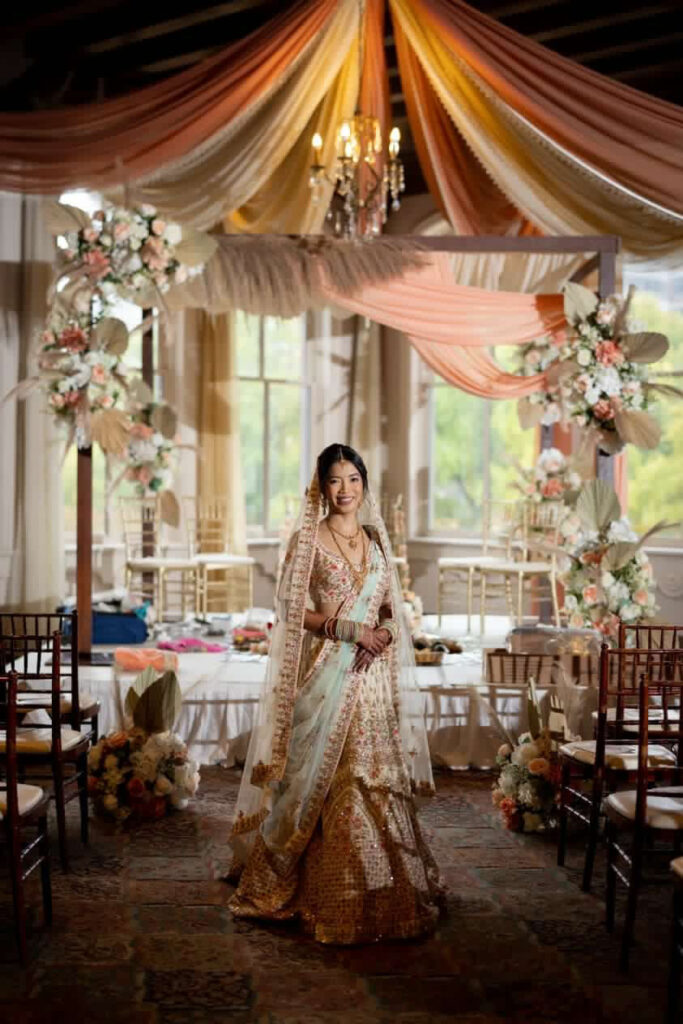 "Double dupattas are a great way to have the flexibility to drape the lehenga in the way you want, and also it will allow the bride to be creative with style. For example, the bride can have fun and personalize the second dupatta in a bright or contrasting color. This would also allow the bride to customize the length, either a shorter dupatta or adding more length to create a veil/trail. The dupatta that comes with the lehenga is usually heavy with borders and work, which becomes very heavy and uncomfortable to keep on the head for a long time. The bride gets a second dupatta made with a lighter border and minimal work, which is more comfortable and lightweight." — Solah Shringar, Washington D.C.
---
What's Out In 2023
Cake Face
"A thick layer of makeup is not flattering in person and/or pictures. The full coverage trend came with social media, which looks great in videos shot in studio lighting and doesn't look great in reality. Makeup can be full coverage without being cakey, and it all lies in skin prep and application technique." — Solah Shringar, Washington D.C.
---
Hashtags
"Some trends that are going are hashtags, not as many couples are doing hashtags for their weddings these days." —Epic Everlasting Events , Charlotte
---
Using All The Bridal Jewelry From A Matching Set
"Bridal jewelry sets are sold as a package, which contains a necklace, rani haar, earrings, matha patti, tikka, haath phool(bracelet with ring), and even nath(nosering). Sometimes they work out but most of the time, they don't work because each element's shape and size doesn't work for every face shape. But, the bride should feel free to switch out with the pieces that are more flattering, which compliments and works as a whole." — Solah Shringar, Washington D.C.
---
---
---